Method 1
About Dalma Recipe: A traditional recipe from Orissa, Dalma is made with nutritious split chick peas cooked along with raw papaya, potatoes and masalas. A quick and easy lunch meal.
How to Make Dalma
1.Pressure cook till one whistle chopped raw papaya, potatoes, split chick peas, turmeric powder, salt for taste, little water, smashed ginger and whole red chillies.
2.In a pan, add mustard oil, bay leaf, paanch poran, cumin seeds, julian onion, chopped ginger and split whole green chillies. Mix them well together.
3.Add turmeric powder, red chilli powder, coriander powder, salt for taste, sugar and lime. Stir them well.
4.Transfer the daal to the pan.
5.Simmer it for 35-40 minutes.
6.Serve hot .
RECIPE NOTES
You can garnish the dish with chopped coriander leaves or sliced onion.
Key Ingredients: Potatoes, Raw papaya, Split chick peas, Turmeric Powder, Ginger, Whole Red Chilies, Mustard oil, Bay leaf, Paanch Poran, Cumin Seeds, Onion, Ginger, Split whole green chilies, Turmeric powder, Red chilli powder, Coriander powder, Salt, Sugar, Lime
Ingredients Of Dalma
2 Potatoes, chopped
1 Raw papaya, chopped
250 Gram Split chick peas
1 tsp Turmeric Powder
As needed Water
Ginger, finely chopped
2 Whole Red Chilies
3 Tbsp Mustard oil
1 Bay leaf
1 Tbsp Paanch Poran
1 Tbsp Cumin Seeds
1 Onion, julienne
Ginger, chopped
2 Split whole green chilies
1 tsp Turmeric powder
1 tsp Red chilli powder
1 tsp Coriander powder
To taste Salt
1 tsp Sugar
Lime
Method 2: by Swayampurna Mishra

Her profession is Chef…………
Dalma is a Chickpea Dal Cooked With Vegetables and Raw Papaya, a delicacy from the state of Orissa. It can be made using toor (arhar) dal, and an assortment of vegetables typically raw banana, eggplant, green papaya and pumpkins, simmered in a special spice blend.
Topped off with an aromatic tempering of panch phoron and coconut shavings seasoned in ghee, the dalma is aromatic and wholesome. The Dalma Recipe has the right combination of taste and health, that is packed with proteins from the dal and minerals and vitamins from the vegetables.
Chena Kaya Erissery Recipe
Moong Dal Dubka Recipe
Paneer Kundan Kaliyan Recipe
Serve the Oriya Special Dalma as a delicious one-pot dal along with steamed rice or jeera pulao.
Cuisine: Oriya Recipes Course: Lunch Diet: High Protein Vegetarian
Equipments Used: Pressure Cooker , Mortar And Pestle, Kadai (Wok) / Heavy Bottomed Pan
Ingredients
1 cup Arhar dal (Split Toor Dal)
2 Potatoes (Aloo) , cubed
1 Carrot (Gajjar) , cubed
1/2 cup Kaddu (Parangikai/ Pumpkin) , chopped
1/2 cup Brinjal (Baingan / Eggplant) , chopped
1/2 cup Papaya , green one, chopped
1 Onion , finely chopped
1 Tomato , finely chopped
1 inch Ginger
1 Bay leaf (tej patta)
1 tablespoon Ghee
4 cloves Garlic
2 Green Chillies
1 Dry red chilli
1 teaspoon Panch Phoran Masala
1/2 teaspoon Garam masala powder
1/2 teaspoon Turmeric powder (Haldi)
1 teaspoon Cumin powder (Jeera)
1 teaspoon Red chilli powder
Salt , to taste
2 tablespoons Fresh coconut , thinly shaved coconut slices
Coriander (Dhania) Leaves , a small bunch, finely chopped
How to make Oriya Special Dalma Recipe – Lentils Cooked With Vegetables & Raw Papaya
To begin making the Oriya Special Dalma Recipe, we will first get all the vegetables chopped and ready.
We will be cooking the Oriya Dalma in one single pot – the pressure cooker.
Add the vegetables, dal, turmeric powder, green chillies, onions, bay leaf, salt and 3 cups of water into the pressure cooker. Pressure cook until you heat couple of whistles. After a couple of whistles, turn the heat to low and simmer for 3 minutes, then turn off the heat.
The dal will continue to cook in the pressure cooker as long as there is pressure. Once the pressure releases completely, you can open the cooker and keep the dal aside.
The next step is to spice up the Dalma with flavors.
Using a mortar and pestle pound the ginger and garlic until you get a rough paste.
Heat the ghee in a heavy bottomed pan on medium heat. Add the red chiles, panch phoran, the red chili powder, the garam masala powder and the pounded ginger garlic. Stir fry for a few seconds until you can smell the roasted aromas.
Take care to keep the heat on low, else the spices can burn and smoke.
Add this masala to the cooked dal and give it a good stir. Check for salt and spices and adjust to suit your taste. You can add some water to adjust the consistency of the dal.
Give the Oriya Style Dalma a quick boil and turn off the heat. Transfer to a serving bowl, garnish with shaved coconut and the coriander leaves and serve.
Serve the Oriya Special Dalma as a delicious one-pot dal along with steamed rice or jeera pulao.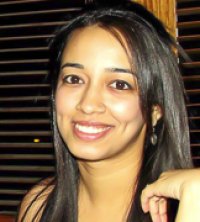 Swayampurna Mishra
Swayam is a banker by profession who must work to pay for a dirty little eating habit. "I love my books, am yet to meet a piece of chocolate I didn't like and I love rainbows". Swayam cooks from her memory and her heart. She loves to experiment a lot with various cuisines of the world. Recently she had one of her recipes featured on the menu of a restaurant, The Egg Factory in Bangalore. She is self-confessed coffee friend, a quintessential night owl and kicks off her mornings with Yoga. She is also an Odissi dancer that she uses to unwind after a long day.